Severe flu in California brings medicine shortages, kills 27
California is reeling from a particularly severe surge in cases of the flu—with pharmacies running out of medicine, packed emergency rooms and a rising death toll.
State health officials say that 27 people younger than 65 have died of the flu in California since October. That's compared to three the same time last year, The Los Angeles Times reports.
A Message from Southeast Toyota
Sophisticated safety features, a powerful V6 engine and incredible new style put the brand-new 2018 Camry beyond compare.
According to health officials, there's no region of the state where people were being spared from the flu.
At UCLA Medical Center in Santa Monica, the emergency room saw more than 200 patients on at least one day, mostly because of the flu.
"The Northridge earthquake was the last time we saw over 200 patients," emergency room medical director Dr. Wally Ghurabi said, citing the 1994 disaster that killed dozens and injured thousands.
In San Bernardino and Riverside Counties east of Los Angeles, emergency rooms are so crowded that ambulances aren't immediately able to unload their patients, preventing them from responding to incoming 911 calls, said Jose Arballo Jr., spokesman for the Riverside County Department of Public Health.
In this Oct. 1, 2013, file photo, Walgreens' pharmacist, Jennifer de Jesus, left, administers a free influenza vaccine to Ana Navarro, 33, during the Binational Health Week event held at the Mexican Consulate in Los Angeles. (AP Photo/Damian Dovarganes)
And some hospitals in the San Francisco Bay Area are limiting visitors under the age of 16 as a precaution, since young people can be more vulnerable to effects of the flu.
Medical experts say this year's flu season may be outpacing last year's because it's peaking earlier. The flu season is typically at its worst around February.
Though the flu killed three Californians by this time last year, 68 people had died from it by the end of February, according to state data.
CDC TO INFORM PUBLIC ON NUCLEAR SAFETY MEASURES
Still, many doctors say the recent surge in flu cases have been unusually severe.
National health officials predict the flu vaccine may only be about 32 percent effective this year. But most people in California and the rest of the country are catching a particularly dangerous strain of influenza that the vaccine typically doesn't work well against.
"It tends to cause more deaths and more hospitalizations than the other strains," said Dr. Jeffrey Gunzenhauser, Los Angeles County's interim health officer.
Meanwhile the preferred drug to treat the flu, known as Tamiflu, has been hard to find at many California pharmacies.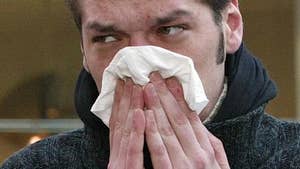 Video
CVS spokeswoman Amy Lanctot said increased demand for Tamiflu in California may have led to some stores being temporarily out of stock. Other pharmacies reported that they were running low on the medicine or were out completely.
There isn't a national shortage of Tamiflu, suggesting that pharmacists' shelves were emptied this week by a sudden surge in demand, said Bob Purcell, spokesman for the San Francisco-based pharmaceutical company Genentech, which makes the drug.
SHOULD POT BE LEGAL? LET STATES DECIDE THAT QUESTION, NOT THE FEDERAL GOVERNMENT
Caroline Bringenberg was prescribed Tamiflu on Wednesday but the 25-year-old Los Angeles resident said her local CVS had run out of it. Her pharmacist told her all of the drugstores' supplies in the area had been depleted.
Bringenberg tried a nearby independent pharmacy but it also had run out.
"I've just sort of given up," Bringenberg said through sniffles. "I think honestly it would make me feel worse to be in the car driving all over town, so I've just opted for ibuprofen and DayQuil."
While Tamiflu doesn't eliminate influenza, it can lessen the severity of symptoms and how long they last. It works best when taken within two days of when patients start to feel sick.
For those who haven't gotten the flu, health officials recommend getting the vaccine, washing their hands often and avoiding close contact with anyone coughing or sneezing.
The Associated Press contributed to this report.
Christopher Carbone is a reporter for FoxNews.com. Follow him on Twitter @christocarbone.
---
Written by News Desk
---
0 Responses
---
Madisons
We're here to fix the machine
Lanterns
We're here to fix the machine.
We are here to fix the machine. The machine is the federal government that has been fundamentally transformed the serve the elite instead of "We The People". Our goal is to engage our fellow Americans on the battlefield of ideas to discover the most ideal way for our nation to be governed to provide the most security with the maximum amount of liberty and freedom for all American citizens. We welcome all people from all walks of life and ideologies to engage with us. Join us on the battlefield of ideas.